Bozburen - Selimiye - Orhaniye - Datca - Bozburun
Sailing route
Day 1: Arrival Bozburun
Day 2: Bozburun - Dirsek Buku
Day 3: Dirsek Buku - Selimiye
Day 4: Selimiye - Orhaniye
Day 5: Orhaniye - Datca
Day 6: Ruins of Knidos
Day 7: Datca - Canak Bay
Day 8: Canak Bay - Bozburun

Arrival Bozburun
Day 1
From the airport you will be picked up by transfer and taken to the port of Bozburun. The transfer takes about 1 hour and 40 minutes. In the harbor you will find the traditional Turkish gület, where you will be accompanied by the crew to your cabin. The gület departs from here in the afternoon (depending on the flight times). You sail to a quiet bay where you can swim and recover from the flight.

From bay to bay towards Dirsek Buku
Day 2
Today you sail to two different, beautiful bays, located around Bozburun. In the evening you stay in Dirsek Buku.

Day 3: Koca Island and Selimiye
Day 3
Today you sail to Koca Island. Here you will visit the village Selimiye and Kameriye. The gület is staying in a bay around Selimiye last night.

Sandy beach of Kızkumu in Orhaniye
Day 4
Today you go to Kızkumu in Orhaniye. Here you will find a long sandy beach of almost 600 meters in the water. The gület stops here so you can walk over the sand. Then you sail to a beautiful bay Dislice island. We stay the night in Bencik bay.

Dimitri and Aktur
Day 5
The gület sails to the bays Dimitri and Aktur. In the evening the gület remains in a bay around Datca.

Ruins of Knidos
Day 6
Today you sail to the interesting ruins of Knidos.

Degirmenli Island and Canak bay
Day 7
The gület sails to Degirmenli Island for 4 hours. Afterwards the ship sails to Canak Bay.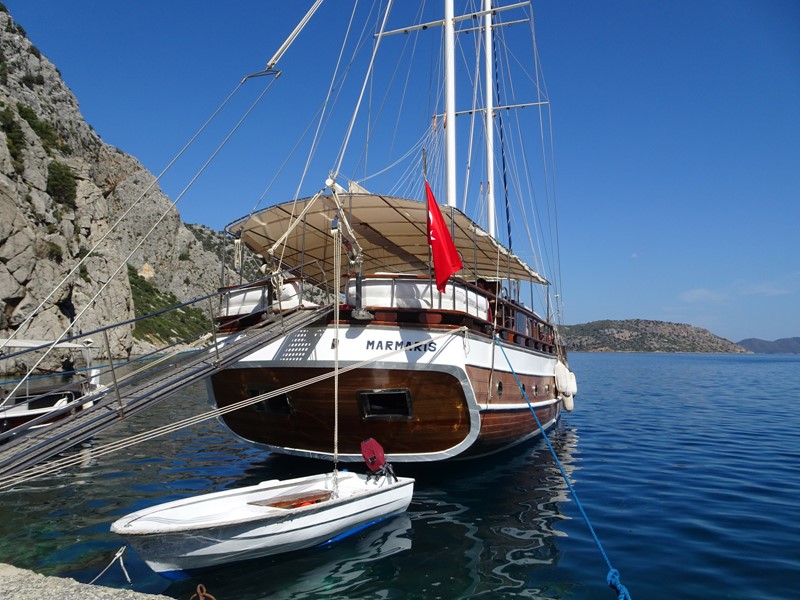 Bozburun and return flight
Day 8
Early in the morning you arrive back at the port of Bozburun. You will be brought back to the airport for your return flight.
Do you already want to leave?
Request your reservation in time
What do you want to experience? What does your dream trip look like? Let us know and we will put together a tailor-made cruise. Request a free quote.